Winter Holidays in Zauchensee
Skiing and Action-packed Holidays in the Ski Amadé
Zauchensee is famous as a winter paradise. The picturesque scenery is especially enchanting, and with an elevation of 1,350 metres above sea level, there is always snow. Our apartments at Schneider Ski Lodge are located in the heart of the Ski Amadé, right in the centre of the Salzburg Sports World. This is a prime location directly on the ski slopes and surrounded by the leading ski resorts of Zauchensee, Flachauwinkl and Kleinarl. Zauchensee is the highest ski resort in the Salzburg Sports World. It's no wonder that we are famous as snow heaven. Snow two metres deep in the mountains is not unusual, even in late spring.
During your winter holiday in Zauchensee, you can choose from an abundance of things to do. There is fantastic snow from late November until late April for skiers, hikers and snowboarders, as well as cross-country skiing on well-kept trails and a breathtaking Alpine panorama. Set aside some time for a romantic sleigh ride or explore the winter scenery on snow shoes. Frolicsome tobogganing and curling attracts both young and old.
During your winter skiing holiday in Zauchensee in Salzburg you and your family have a world of choices at your disposal for exploring the glorious scenery.
Skiing and Snowboarding in Zauchensee and the Ski Amadé
The Ski Amadé is Austria's largest ski network, offering access to the widest variety of pleasure skiing in Europe. Awaiting you are 760 kilometres of skiing fun, 356 well-kept slopes and 270 comfortable lifts – and all with only one ski pass!
Zauchensee is the highest ski resort in the Salzburg Sports World. It is a paradise for ski enthusiasts with plenty of snow always guaranteed. World Cup champions have proven that the Ski Amadé is a skier's paradise. There are more than 70 kilometres of slopes for skiers at all skill levels. The Absolut Park and the Freeriding Terrain in Zauchensee, known far and wide, make the interconnected ski area of Zauchensee, Flachauwinkl, Kleinarl, also known as the Skischaukel, the premier ski destination for families, skiers, freestylers and adventurers who like to go exploring beyond the slopes.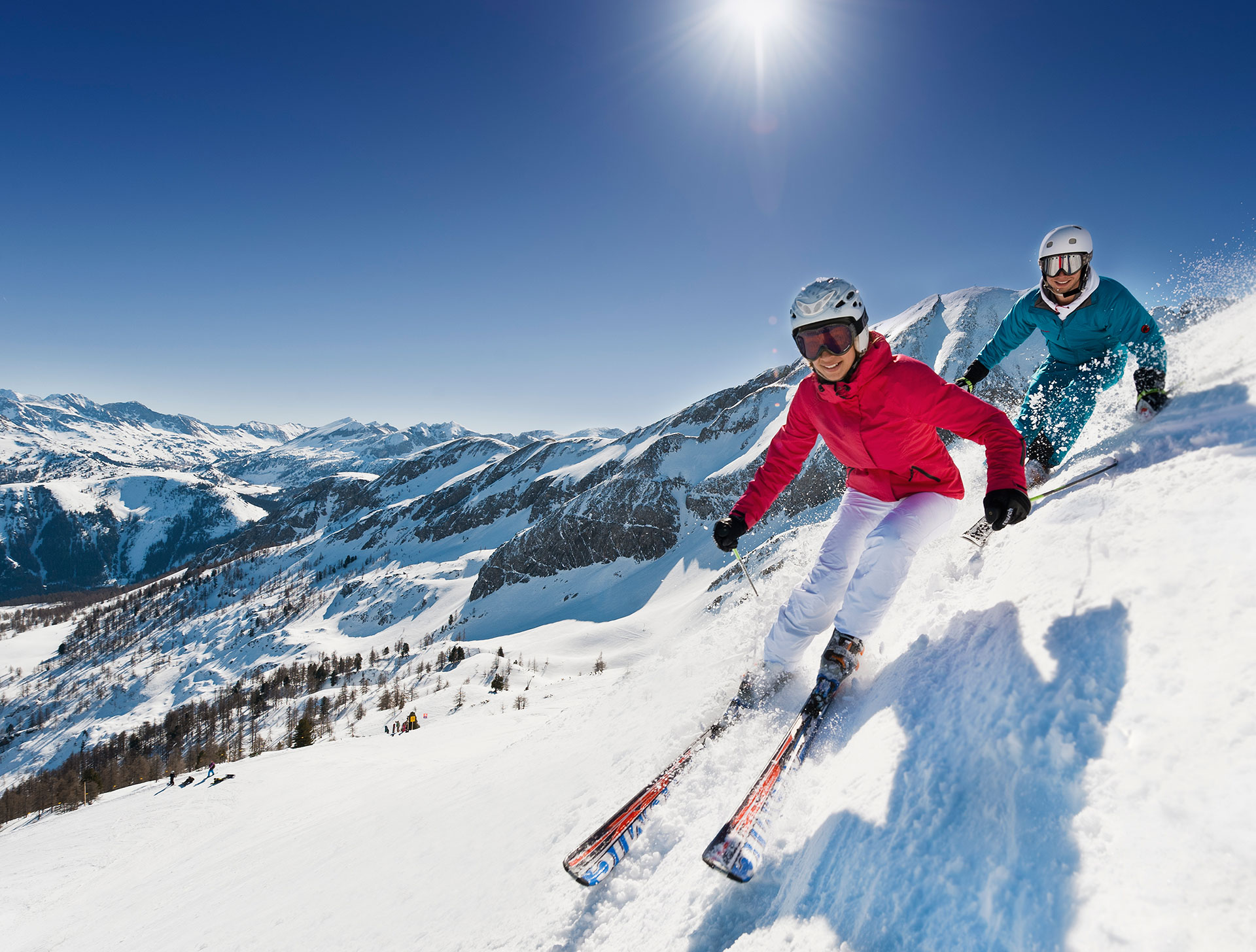 Ski Amadé = 5 regions – 25 Ski Resorts: 270 lifts and cable cars and 760 km of slopes – all with just one ski ticket
Ski area of Zauchensee, Flachauwinkl, Kleinarl with 70 km of slopes:
Lookout point for World Cup Start Gamskogel
World Cup Course Zauchensee
Training Centre Kogelalm
Freeride Eldorado: 4 designated ski trails for freeriders and alternative skiers
Designated relaxation and lookout points
Zauchi's Kinderland with a practice lift at the Zauchensee base station
Wi-Fi Points, family-friendly ski huts with sun terraces
Base stations with cuisine and service in Zauchensee and Flachauwinkl
Ski and Snowboard Schools in Zauchensee: World champion Ski School Top Alpin Walchhofer, Children's Ski School Bella
Ski rental and ski service on site and at the apartment building: Intersport Schneider
Ski bus – no charge
For transport between the ski areas of Radstadt, Altenmark, Zauchensee and Radstadt, Altenmarkt, Flachau, Flachauwinkl ski buses are available at no extra charge. The bus stop for Altenmarkt is located within walking distance from our Schneider Ski Lodge apartment building.
Cross-country Skiing in the Salzburg Sports World area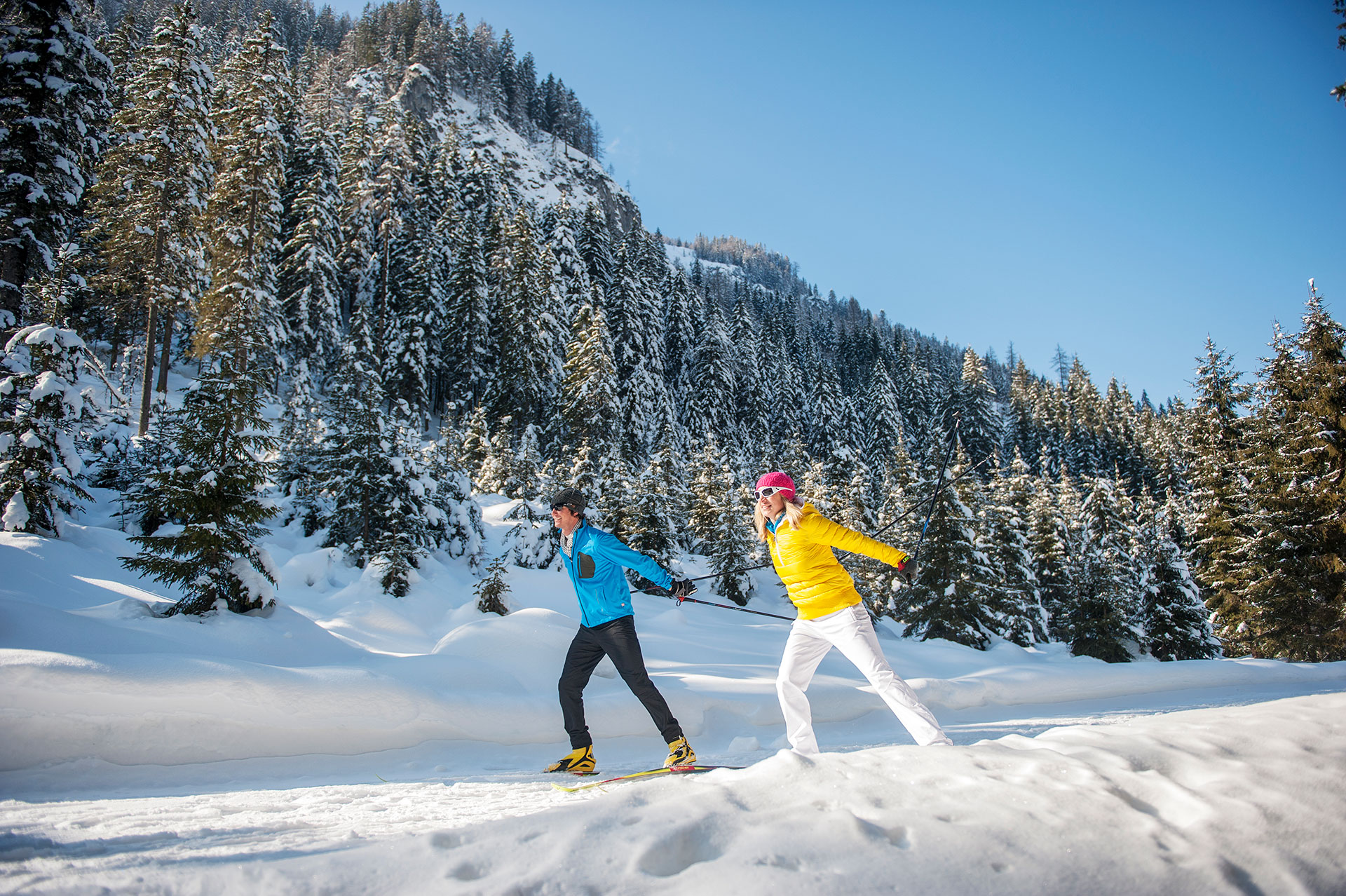 In the double holiday paradise of Altenmarkt-Zauchensee cross-country aficionados and skating companions are welcome. You will experience a cross-country paradise in a class by itself – mainly because Altenmarkt-Zauchensee is famous as one of the top three cross-country areas in Austria. The 260km, continuous trail network in the communities of Altenmarkt-Zauchensee, Radstadt, Flachau, Wagrain, Eben and Filzmoos (Salzburg Sports World) will not disappoint you.
Tauern Trail
63,2 km long trail
6 locations in the Salzburg Sports World are connected by the Tauern Trail
Entry is possible from any location – entry is in the immediate vicinity of the apartment building
Stops can be made along the trail
Equipment rental available in Zauchensee
Ski Touring and Freeriding in the Deep Snow Paradise
Zauchensee-Flachauwinkl – das Paradies für Freeride- und Tiefschneefans – eröffnet abseits der präparierten Pisten ein wahres Powder-Paradies. Ob beim Skitourengehen oder einer genialen Freeride-Tour, freuen Sie sich auf unvergessliche Routen mit traumhaften Panoramablicken, vielzählige Tree-Runs, unberührte Tiefschneehänge und einzigartige Off-Piste-Erlebnisse!
Altenmarkt-Zauchensee Freeride-Eldorado – schneesicherstes und bestes Varianten- und Freeridegebiet in Ski amadé
Rauf mit der Seilbahn, runter auf den zahlreichen Tiefschneehängen abseits der Skipiste
4 ausgewiesene Skirouten: Skiroute Flachauwinkl, Skiroute Roßkopf, Skiroute Gamskogel Ost und Skiroute Panoramahang
Geführte Skitouren mit bestens ausgebildeten Bergführern
Geführte Off-Pisten-Touren mit Einführung in die Lawinenkunde
Ausrüstungsverleih direkt in Zauchensee
Aktuelle Lawinenberichte: www.alpin.salzburg.at, www.lawine.salzburg.at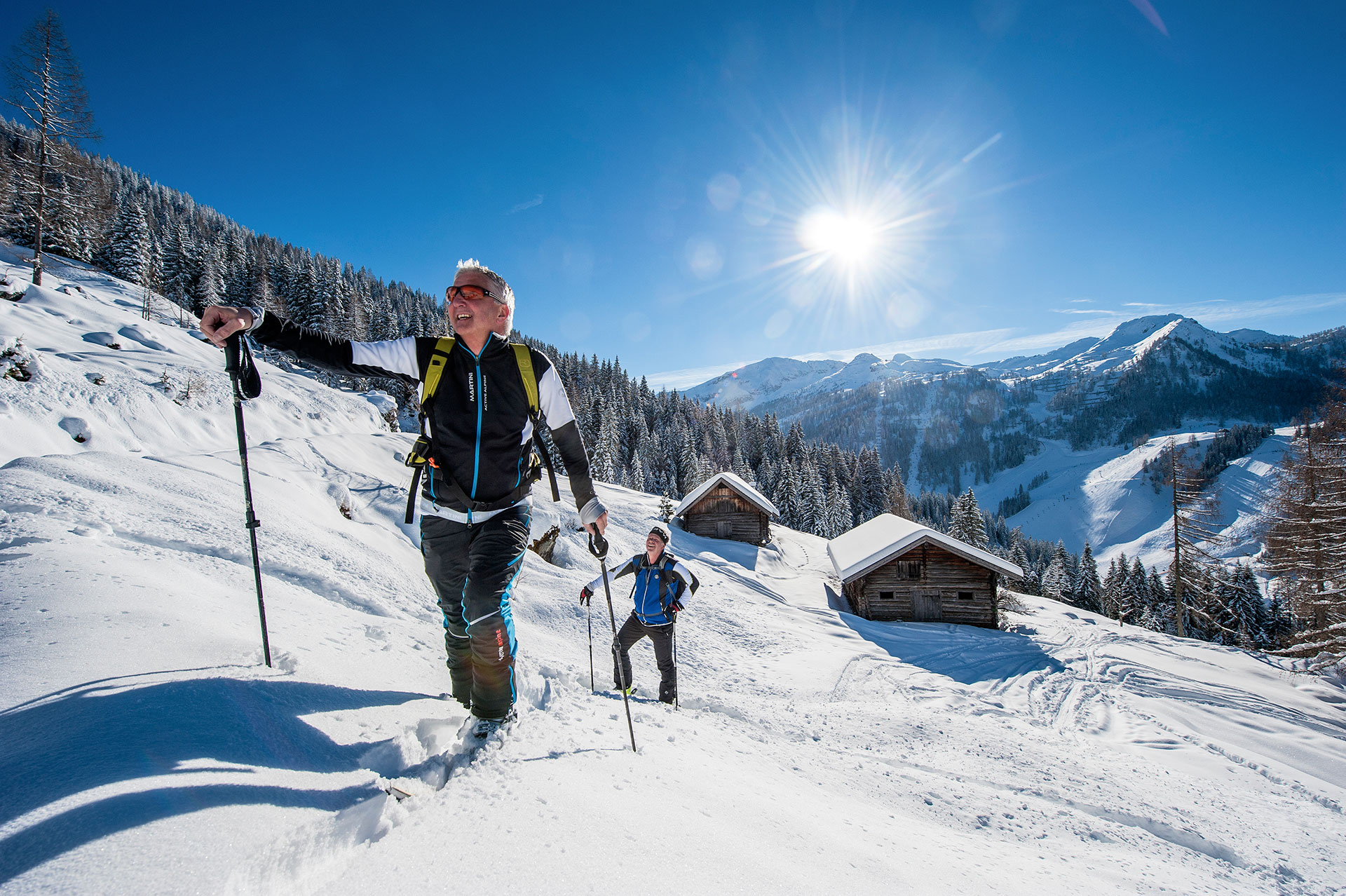 Winter Hiking over Snowy Terrain
An unforgettable nature experience. If you need some peace and quiet, this superbly manicured winter hiking trail network in Altenmarkt-Zauchensee will fill the bill.
47 km of manicured winter hiking trails in Altenmarkt-Zauchensee
42 km of uniformly marked snowshoe trails for every taste
Guided snowshoe hikes bookable
240 km of hiking in the Salzburg Sports World
Easy trails in the valley and moderately difficult ones passing through pastures and by huts
Uniform signs (yellow)
Quaint, cosy huts and restaurants
Tobogganing, Sledding and Zipfelbobbing
If you and your family feel like a toboggan ride, Altenmarkt-Zauchensee offers four trails for great fun tobogganing off the ski slopes.
Tobogganing in Zauchensee: Toboggan run at mountain hut Sonnalm (3.1 km long)
Tobogganing in Altenmarkt: Toboggan run at Bifei's Hochnoessler Hut (3.2 km long), Toboggan run and mountain inn at Winterbauer (2.2 km long)
Tuesdays, Thursdays and Saturdays: Hut festival with live music at the Hochnoessler Hut
Koenigslehen toboggan run in Radstadt: longest toboggan run in the Salzburg region
Free use of the runs
Toboggan rentals at the huts and the lift stations
Accessible on foot or by using the toboggan taxi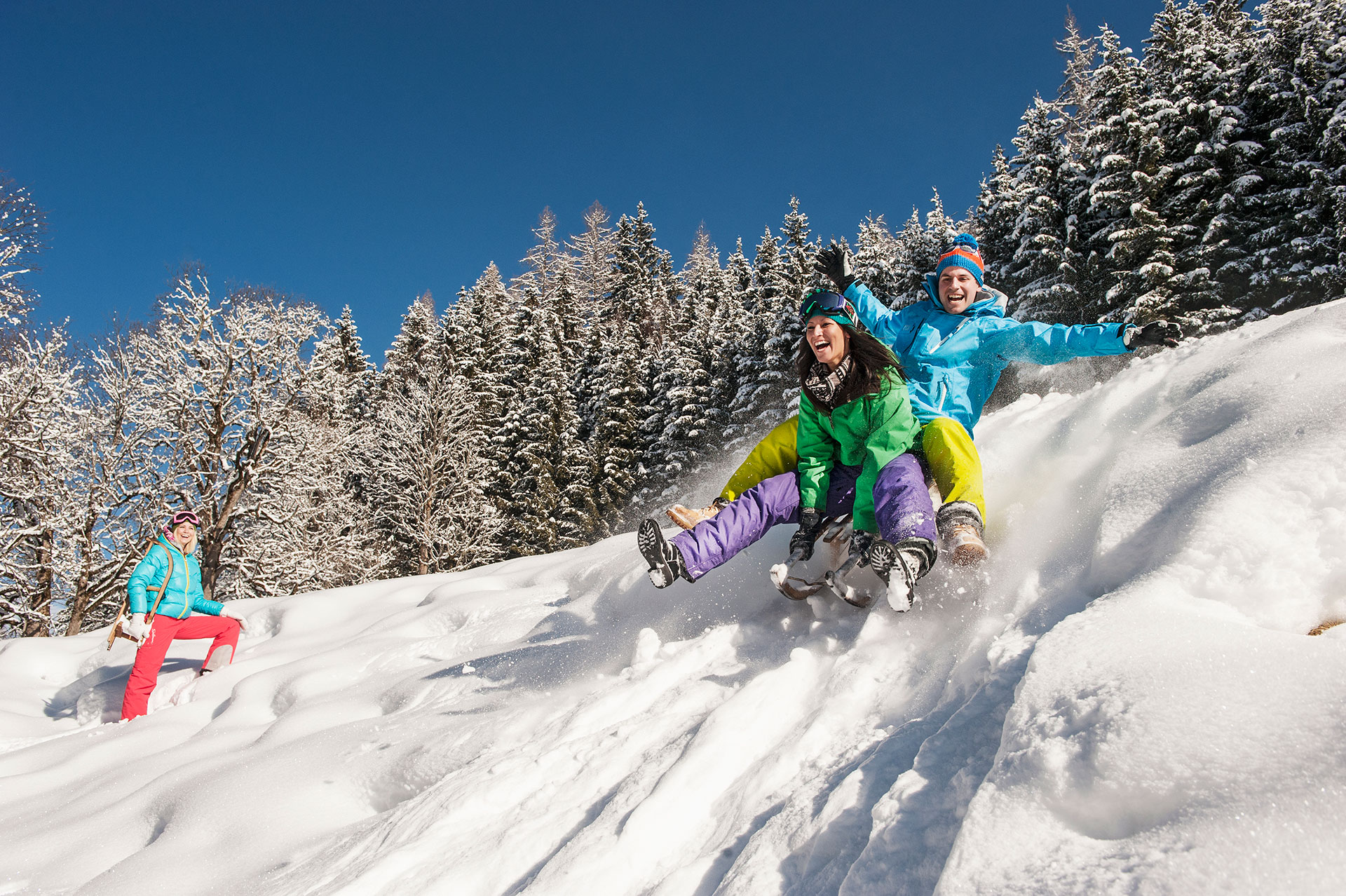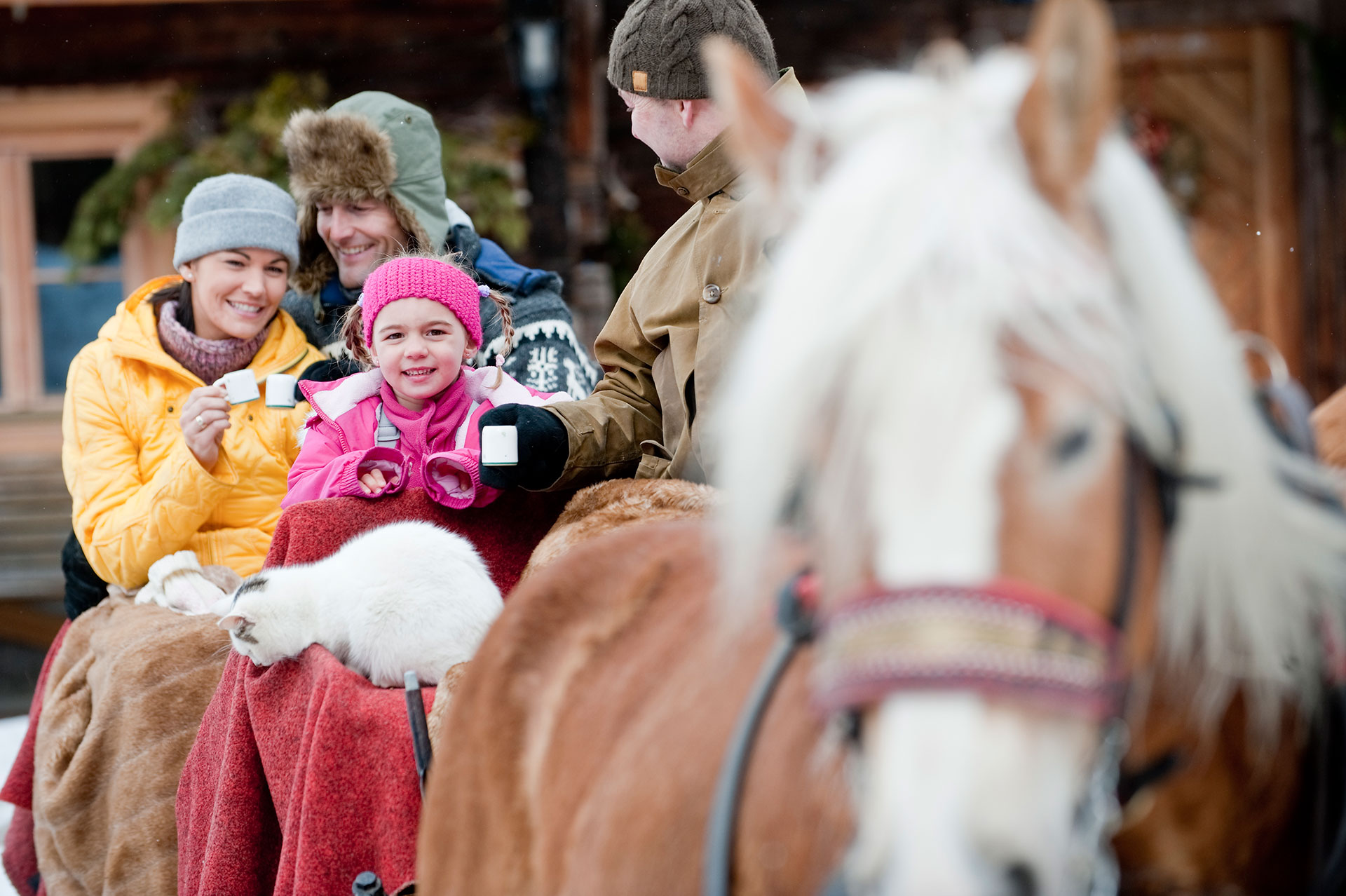 A romantic setting, warm clothes and all wrapped up in fluffy blankets – this is what a sleigh ride dashing through the white winter world should be. Our sleighs can accommodate up to 14 people. You won't be able to resist stopping off at the cosy huts along the way.
Available in Altenmarkt and Zauchensee
Sleigh rides – also for large groups
Days, evenings and nights
Pick-up is available directly at the Schneider Ski Lodge apartments
If you and your family or friends prefer classic ice skating or some challenging curling, Altenmarkt-Zauchensee has plenty to offer you for both these vigorous sports.
Curling rink in Altenmarkt
Free guest curling is available every Wednesday, sponsored by the curling club
Amadé Waterpark Adventure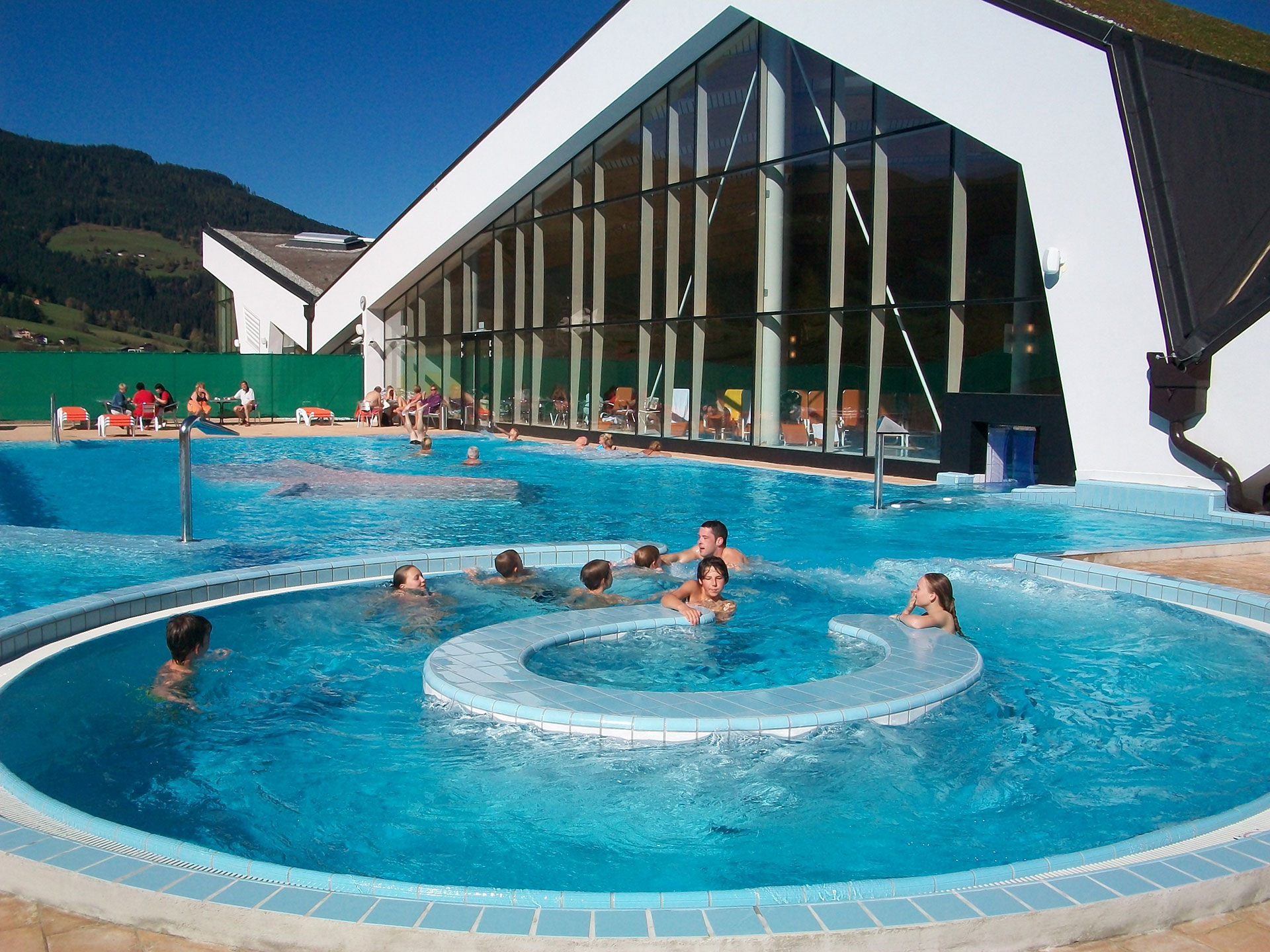 Enjoy skiing in Zauchensee and relax in the evening at the Amadé Waterpark Adventure. Just 12 km from our apartments in Zauchensee, fun for the whole family awaits you at Amade Waterpark. You can relax to your heart's content and bask in that wonderful feeling of wellness.
The diversified bathing and sauna scenery will thrill you as you sample the saltwater relaxation pools, wave and sports pools, exciting slides, unique sauna infusions and soothing massages.
Bathing, relaxation and adventure covering 30,000 square metres
Open 365 days a year (9:00 a.m. till 10:00 or 11:00 p.m.)
11 pools and 3 slides
A variety of plans and services
5 different themed-related saunas with a diversified infusion program
23% discount with the Salzburg Sports World Guest Card
Events galore
Different kinds of Ayurvedic massages, Mon-Sun from 11:00 a.m. till 9:00 p.m.