Summer in Zauchensee
Hiking and Action-packed Holidays in the Salzburg Region
For your summer hiking holidays when you stay at the Schneider Ski Lodge Apartments in Zauchensee in the lovely Salzburg region you will have endless opportunities for action-packed fun and relaxation. Creativity, diversity and variety await you when you spend your summer holidays in the Altenmarkt-Zauchensee region, right in the middle of the Salzburg Sports World. You will be enchanted by the imposing mountains and natural surroundings of Zauchensee, an area frequented by World Cup champions. Come and immerse yourself in a holiday world full of contrasts and sights.
Explore the sights on foot while hiking at every elevation over the 200 kilometres of marked trails, or go cycling on challenging mountain bike trails or ride through the beautiful countryside mounted on your horse. Or if you wish, you can take it easy with your family as you cycle over the abundant cycling trails in Altenmarkt-Zauchensee. You can also simply luxuriate in the refreshing lakes and Amadé Waterpark Adventure, or you can opt for an excursion to one of the many nearby tourist attractions.
You're sure to find something for everyone during your action-packed summer holidays in Zauchensee!
Double holiday paradise with double choices: Zauchensee in the mountains (1,350 m) and Altenmarkt in the valley (842 m)
A world of creative pursuits together with sports
Certified hiking village, hiking at any elevation, only €1.00 carfare for the Salzburg Sports World bus
Right in the centre of the action, an ideal starting point for more than 190 attractions
Family holiday: with over 180 excursions with children (Salzburg Card), Magic Mountains.
Cultural events galore
Hiking in Zauchensee and the Salzburg mountains
Explore the rich variety of hiking available at all elevations in the hiking areas surrounding Altenmarkt-Zauchensee. Over 20 marked hiking trails (195 km) beckon you to experience nature in a very special way by exploring the contrasting scenery of the certified hiking village of Altenmarkt-Zauchensee. Hiking for every taste awaits you in Zauchensee, whether you prefer a relaxed family jaunt or something more athletic and challenging.
A network of broad and well-marked trails is available in Altenmarkt and Zauchensee
Everything from leisurely strolls to challenging mountain hikes
Summer lift operation for day trips (June to September)
Salzburg Alpine trails with plenty of mountain huts and traditional hut delicacies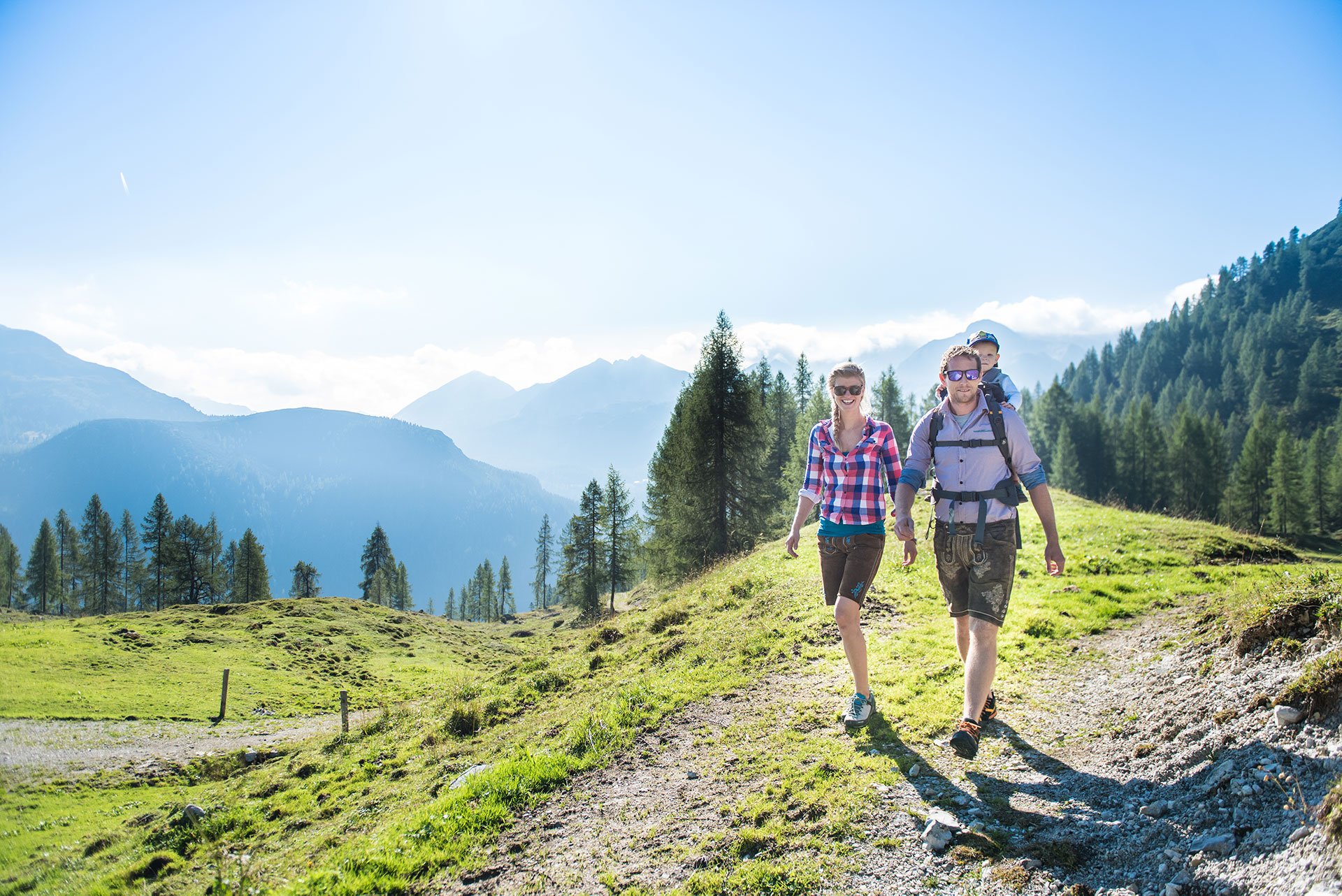 Cycling Holiday – Cycling and Mountain Biking
The Schneider Ski Lodge Apartments in Zauchensee are an ideal starting point for your summer holiday in Salzburg. Whether you prefer a cycling holiday for pleasure, mountain biking, e-biking or road cycling, when you come to Altenmarkt-Zauchensee in the Salzburg Sports World you will spend your holidays in one of the most stunning cycling regions in Austria. A variety of cycling tours for all tastes will take you through the breathtaking natural scenery between the Dachstein and the Radstat Tauern mountains. The well-developed trails are provided with signposts so that you can have a relaxed family jaunt on your bicycle or something more athletic and challenging.
23 mountain bike trails (480 km of bike trails ranging over 18,000 meters of elevations) in the Salzburg Sports World
Diversified tours: relaxing or challenging
Diverse area (lakes, mountains and level)
Mountain bike tours: exciting downhill trails, Bike Park in Wagrain is close by
An ideal starting point for a variety of long biking trails
A variety of e-bike tours in the valley and in the mountains
Cycling, mountain bike and e-bike rentals in the sports shops in Zauchensee
3 E-bike charging stations
Cable car transport available
Golfing Holidays in Salzburg
A number of Golf courses are close to our apartment building in Zauchensee.
In less than an hour you can be at 15 of the most attractive golf courses in the Alps.
Golf Course Radstadt

18-hole golf course
9-hole Akademieplatz and the world's only golfing gondola, the 'Birdy Jet'
The Akademieplatz can be used without a membership
An ideal training facility for children, youth and beginners

Golf Course Goldegg with an 18-hole course and covered driving range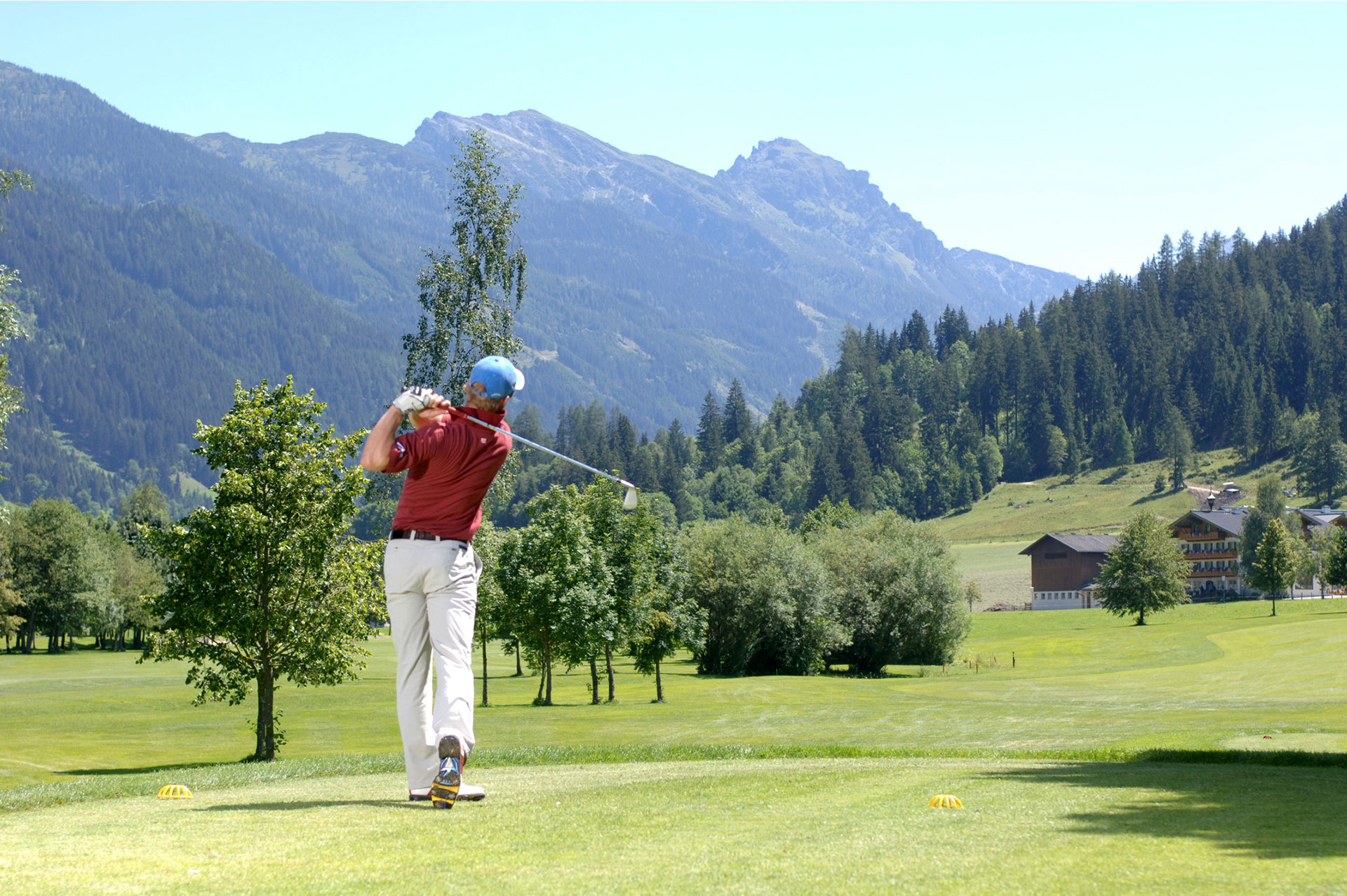 Amadé Waterpark Adventure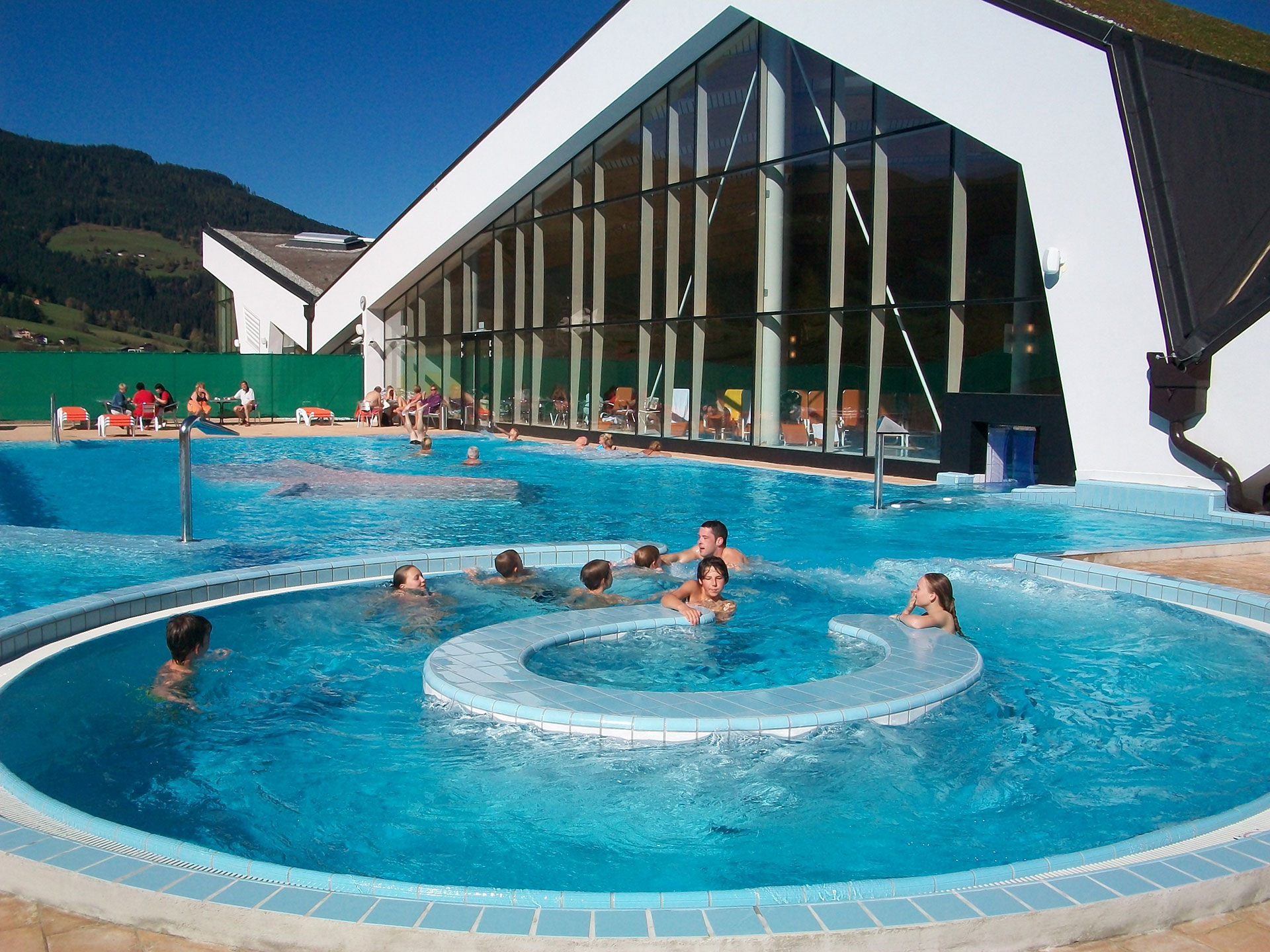 During your summer holiday in Zauchensee, you can take a refreshing dip in the cool lakes and outdoor pools. In the vicinity of Altenmarkt-Zauchensee (3-92 km away), there is a total of 20 lakes where you can swim. There is something here for the whole family.
Only 12 km away is the Amadé Waterpark Adventure in Altenmarkt-Zauchensee where you will find a special treat for young and old.
In the summer, you can experience the magnificent mountain scenery and have fun swimming and relaxing in a very special way. On hot, sunny days, you can relax and cool off in the soothing waters. There is an extensive sunbathing area where you can bask in the sun and relax.
Sports Available in the Zauchensee Region
Do you like to participate in sports during your summer holidays? If so, then Altenmarkt-Zauchensee is the perfect place. Have fun on you summer holiday any way you choose: running, playing ball games, fishing, Nordic walking, horseback riding and much more.
Climbing: Climbing Garden and High Rope Park in Altenmarkt
Climbing Centre 'Sea Wall' in Zauchensee
Adventures in the water: canyoning, rafting, river-tubing, riverbug and kayaking in the region
Ball Games: beach volleyball, tennis, soccer, bowling
Nordic Walking: certified route network (35 km) at any elevations
Yoga at 2,000 meters above sea level on the beautiful Seekarsee
Bockerl riding, mountain carts and Segways at the Salzburg Sports World
Popular motorcycle routes: Route 99 (from Bischofshofen to Spittal/Drau), Nockalmstrasse Grossglockner Hochalpenstrasse and many more